The Madison Music Academy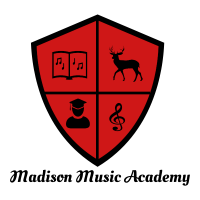 At Madison Music Academy our tagline is Music with a Mission.  It is not a cute little saying. It is our passion and guides us to make our Academy the best it can be!  We firmly believe that all children who want to learn music should have the ability to do so, regardless of their financial situation. We know the sacrifice that many families make to give their children the gift of music. We have come to a crossroads in our country where many public schools offer little or no music education. This has left our children in two distinct camps, the haves and the have-nots. But even the children that can afford lessons are being short changed because most for-profit educational centers are more interested in their retention numbers and not the content they provide to their students. The reality is often a for-profit business is not a passion nor a mission because at the end of the day they have to have enough money to keep the lights on and mouths fed. Madison Music Academy pledges the following to our great city of Madison Alabama:
We skillfully teach children all aspects of music including reading, technique, theory, composition and overall musicianship.
We teach piano, acoustic guitar, electric guitar, bass guitar, and ukulele lessons to children grades K-12th grade.  
We partner with other organizations and teach free music camps year round.
We teach free summer camps, teaching general music theory and our plucked string curriculum lessons during June and July.
We provide free lessons to children who cannot afford it.
We rent guitars and ukuleles to children who want to learn the instruments, regardless of their ability to pay.
We give away free instruments to children who want to learn and cannot afford the instrument.
We have scholarships available.
We love teaching and giving children the gift and knowledge of music!​​
---
Faith
Love
Hope
Family
Quality
Wisdom
Achievement
Creativity
Knowledge
Loyalty

---

We are the most respected, comprehensive, loved, and only four year music academy in Madison, skillfully providing all children in Madison County piano and plucked string instruments lessons, regardless of their ability to pay with expertise and excellence.

---
---
256-756-7408
11156 County Line Road Madison AL
MAP
---